Product Summary
The HFBR-1414T is a Low Cost, Miniature Fiber Optic Component with ST, SMA, SC and FC Ports. The HFBR-1414T is designed to provide cost effective, high performance fiber optic communication links for information systems and industrial applications with link distances of up to 2.7 kilometers. The applications of the HFBR-1414T are 100Base-SX Fast Ethernet on 850nm, Media/fiber conversion, switches, routers, hubs and NICs on 100Base-SX, Local Area Networks, Computer to Peripheral Links, Computer Monitor Links, Digital Cross Connect Links, Central Office Switch/PBX Links, Video Links, Modems and Multiplexers, Suitable for Tempest Systems, Industrial Control Links.
Parametrics
HFBR-1414T absolute maximum ratings: (1)Storage Temperature:-55℃ to +85℃; (2)Operating Tempera ture:-40℃ to +85℃; (3)Lead Soldering Cycle: Temp:+260, Time:10sec; (4)Forward Input Current: Peak:200mA, dc:100V; (5)Reverse Input Voltage:1.8V.
Features
HFBR-1414T features: (1)Meets IEEE 802.3 Ethernet and 802.5 Token Ring Standards; (2)Meets TIA/EIA-785 100Base-SX standard; (3)Low Cost Transmitters and Receivers; (4)Choice of ST, SMA, SC or FC Ports; (5)820 nm Wavelength Technology; (6)Signal Rates up to 160 MBd; (7)Link Distances up to 2.7 km; (8)Specified with 50/125 μm, 62.5/125 μm, 100/140 μm, and 200μm HCS Fiber; (9)Repeatable ST Connections within 0.2 dB Typical; (10)Unique Optical Port Design for Efficient Coupling; (11)Auto-Insertable and Wave Solderable; (12)No Board Mounting Hardware Required; (13)Wide Operating Temperature Range -40℃ to +85℃; (14)AlGaAs Emitters 100% Burn-In Ensures High Reliability; (15)Conductive Port Option.
Diagrams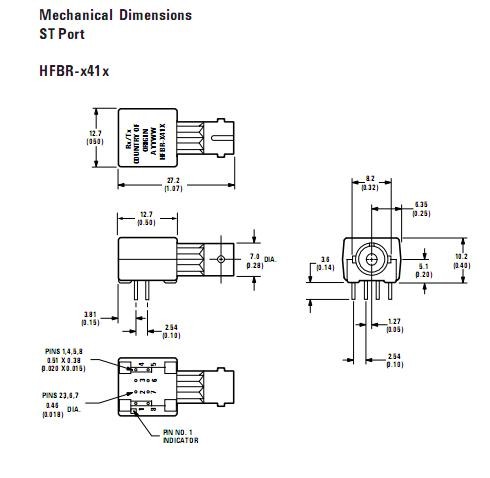 Image
Part No
Mfg
Description
Pricing
(USD)
Quantity

HFBR-1414T

Avago Technologies

Fiber Optic Transmitters, Receivers, Transceivers Low Cost Hi Pwr ST F O Tx Threaded

Data Sheet

Negotiable

HFBR-1414TZ

Avago Technologies

Fiber Optic Transmitters, Receivers, Transceivers Low Cost Hi Pwr STT FO Tx-Pb Free

Data Sheet



| | |
| --- | --- |
| 0-1: | $10.32 |
| 1-25: | $8.51 |
| 25-100: | $7.74 |
| 100-250: | $7.48 |